What to expect in this Yoga
Philosophy Training
This course takes you through the history of yoga and the evolution from its ancient roots to the more common forms we are accustomed to in our modern society. Not only will we explore the teachings from some of the most sacred texts on yoga, but we will learn how to apply them to the life of a 'householder'.  Householder life refers to living a yogic lifestyle while participating in the modern world, something that cannot be learned from reading only. 
We will explore some of the key aphorisms of The Yoga Sutras of Patanjali. Specifically the ones that offer you a model for understanding your own makeup, how and why the mind works the way that it does, and the ways in which you may begin to re-pattern yourself in order to live a life that's more true to your authentic peaceful nature. 
Who is this course designed for?
Those who feel that there is more to yoga than asana (the physical practice)
Those who are interested in becoming a yoga teacher 
Those who are already certified yoga teachers but feel they could expand upon their knowledge in the Philosophy of Yoga
Those who are already teaching and feel uncomfortable talking about Yoga Philosophy in a class setting 
Anyone looking to explore the true meaning of Yoga 
This course counts as 20 hours towards one of our Online 200hour Yoga Teacher Training Course. To know more about our 200hour Online YTTC click here.
This Yoga Alliance accredited course is led by our senior teacher Lisa Chamberlain (E-RYT500 & YACEP). Once the course is completed, and if you are a 200hour Registered Yoga Alliance Teacher, you will gain 20 continuing education credits. These credits can be added to your Yoga Alliance account if you are registered with them.
In order to continue growing as a teacher, all Registered Yoga Teachers (RYT) must complete 30 hours of continuing education every 3 years.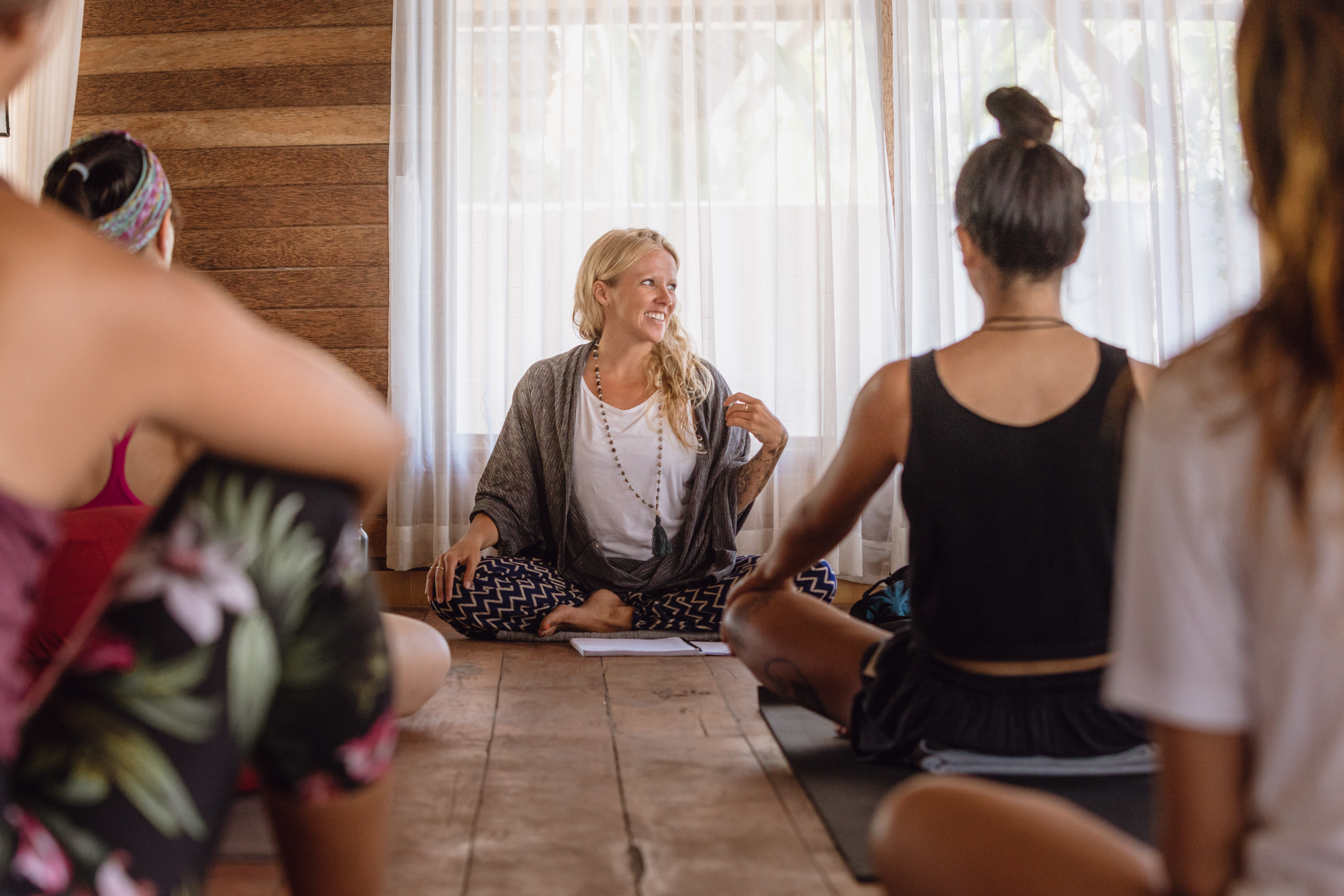 With more than a decade of combined practice and teaching experience, I was initially drawn to yoga through the physical practice of asana. It wasn't until my first 200hour in India that I really started to dig in and discover a deep resonance with Yoga Philosophy.
One of the most prominent beliefs that I hold as a teacher is that we are first and foremost a student. This belief has led me to complete several teacher trainings across a variety of categories and styles, and I continue to do so presently. 
I love the idea of online trainings; their adaptability, availability and convenience has led me to complete dozens for my own educational purposes. This has helped me to discover the aspects that really support a student's learning so that I may incorporate them in my own online courses. 
When not studying Yoga philosophy, spirituality, or the biomechanics of the human body; I love to travel the world to experience new places and cultures.
"The deeper the Self-realization of a man, the more he influences the whole universe by his subtle spiritual vibrations, and the less he himself is affected by the phenomenal flux." 
― Paramahansa Yogananda, Autobiography of a Yogi
Frequently Asked Questions
When does the course begin and end?
One of the greatest benefits of this online training is that you can begin and end it as it suits you. If you follow the timeline provided, you can finish the course in just a few days!
Do I need to a be a yoga teacher to take this course?
Not at all! This course is a great first step for those are interested in learning more about the Philosophy of Yoga. It can be used either toward our 200hour fully online, or 50% online course, or simply for your own personal development.
Are exams required for course completion?
No, there are no final exams. There are homework assignments and quizzes throughout the course, and a final assignment if you would like to receive the 20hour CE credits or are looking to use this course toward your 200hr designation.
Is this Yoga Alliance certified?
Yes, registered yoga teachers can submit this course to the Yoga Alliance to fulfill their continuing education requirement. If you are registered with the Yoga Alliance you must complete 30 hours of yoga related training every three years. You may also use this course toward your Yoga Bliss 200hour certification. 
How much does the course cost?
The regular price of the course is 4.000.000 IDR. Note that there are no refunds for this training.
Do you have payment plans?
Yes! If you sign-up for our 100hour or 200hour course, you can enrol with a special payment plan to make 2 or 4 payments without interest. Once you have made your first payment, you will have complete access to our first module.
Refund Policy
We value integrity and believe students should honor commitments made. There will be no refunds for this transaction, please make sure you are ready to commit to this training prior to enrolling.
Are the modules and lessons available for download?
The instructional videos can only be watched within the course itself, and you will have lifetime access to all of the material. There will be some downloadable PDFs, some audios lessons and workbooks throughout the course.
How long will I have access to the course?
Forever! Once you enroll, you will have lifetime access to the course, including any content added in the future.
Let us know if you have any further questions by emailing us directly at 

[email protected]